Event Registration - Lake Burton Civic Association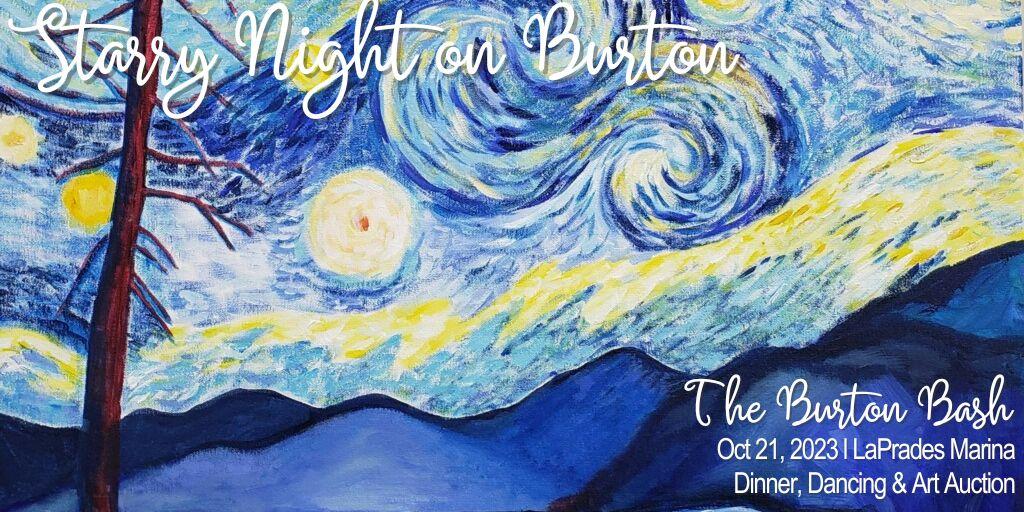 Burton Bash
10/21/2023
5:30 PM - 9:00 PM
Burton Bash
10/21/20235:30 PM - 9:00 PM EST
Location: 25 Shoreline Trail, Clarkesville, GA 30523
Registration ends on
10/6/2023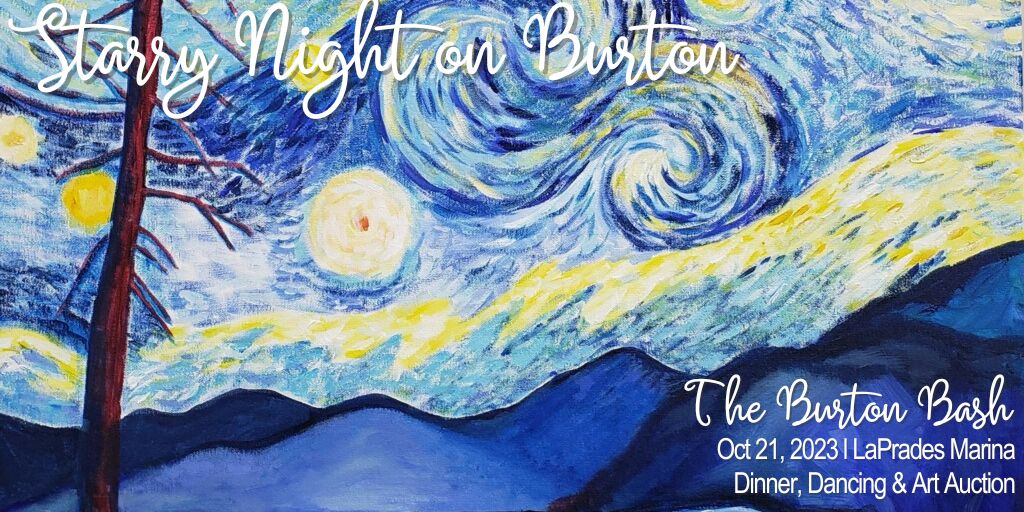 Special thanks to Margo Boden for the use of her artwork. This piece will be available for purchase at the Art Auction.
One Week Remains to Join Us for A Starry Night on Burton!
Get ready for an enchanting evening that promises to be nothing short of magical! We are thrilled to invite you and your friends to join us at the much-anticipated Burton Bash, a spectacular Dinner and Art Auction for Clean and Safe water on our beloved Lake Burton. This event, set against the backdrop of our stunning lake, adorned in the vibrant colors of fall's glory, is an opportunity you won't want to miss.

Picture this: you and your friends gathered together on a balmy autumn night, surrounded by the soothing sounds of nature and the sparkling reflections of the moonlight dancing on the water. As you arrive, you'll be greeted by the warm camaraderie of fellow community members, all coming together for a cause that is close to our hearts.
Art
The night will be filled with an air of excitement and festivity as we showcase a breathtaking art auction featuring lake-centric works from local artists and renowned talents. Each masterpiece will add a touch of beauty to our cause – ensuring clean and safe water for Lake Burton for generations to come.

View the amazing art items here! Items open for bidding on Wednesday, October 19.
Dining
As you delight in the artistic wonders, a sumptuous dining experience awaits you, catered by The Burton Grill. Savor the flavors of a specially curated menu crafted with the finest ingredients and presented with care.
Appetizers served at Pavilion- Assorted cheeses and crackers

Harvest Salad with Baby Kale, Butternut Squash, Apples, Toasted Pepitas and Apple Cider Vinaigrette

Bread

Grilled Mahi Mahi with grilled pineapple, charred scallions, mint and cilantro

Roast Herb Crusted Pork Tenderloin, natural jus

Roasted Marble Potatoes ~ EVOO and sea salt

Roasted Autumn Vegetables

Warm Apple Strudel, Caramel Sauce

Cash Bar
Dancing
And let's not forget the music and dancing! Under the twinkling stars and amidst the rustling leaves, take to the dance floor with your friends, and let the rhythm of the night carry you away. The joy of giving back to our community will resonate in every beat, making this a night to remember.

Your attendance at the Burton Bash is more than just an enjoyable evening; it is an investment in the future of Lake Burton and the well-being of everyone who calls this place home. With your generous support, we can make a significant difference in ensuring clean water and a safe environment for all.

So, mark your calendars and secure your tickets for this unforgettable event. Bring your friends, family, and passion for making a positive impact. Together, we can raise the funds needed to protect our beautiful Lake Burton and preserve its natural wonder for generations to come.

Join us as we dine and dance under the stars, all for a cause we hold close to our hearts. Together, let's create a brighter and cleaner future for Lake Burton!